Jawa 250 - 350 Kyvacka 353 - 354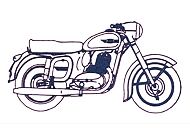 Do you own a vintage Jawa 250-350 Kyvacka 353-354 motorcycle and are you looking for quality and reliable spare parts for it? In our JAWASHOP you will find all possible spare parts for Jawa, Cezeta and other brands of historical motorcycles.
Jawa Kyvacka technical parameters
Motorcycles Jawa 250-350 Kyvacka 353-354 have a two-stroke single-cylinder engine with a capacity of 344cm3. These motorcycles reach up to 8.8KW and have a top speed of 110km/h.
Spare parts offer
We offer the following spare parts for historical motorcycles Jawa Kyvacka 250 and Jawa Kyvacka 350:
Engine and crankcase
Transmission and clutch
Fuel system
Secondary chain drive
Bowden cables
Exhaust system
Frame and accessories
Steering and handlebars
Mudguards and covers
Seats and covers
Wheels and brakes
Electrical equipment
Books
Other accessories
All spare parts are of the highest quality. Our spare parts are highly reliable and a clear guarantee of satisfaction.
Selection of spare parts
When selecting spare parts for motorcycles like Jawa 250-350 Kyvacka 353-354, it is always important to recognize exactly what spare part you need. In this offer you will find spare parts for motorcycles:
All information about all spare parts can be found in our Parts by category.
Show more
Show less