Jawa 250 type 590/04 Californian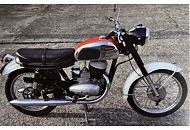 Welcome to JAWASHOP, the main place to find the best quality spare parts for your precious Jawa 250 motorcycle. Here you will find not only spare parts for Jawa 250 Breeze type 590/04, but also for other motorcycles of JAWA and CEZETA brands. Your journey to restore, maintain and improve your classic ride starts here.
Jawa 250 technical parameters
A testament to Czech engineering, the Jawa 250 type 590/04 motorcycle displays unsurpassed prowess. Its 250 cc, 12 hp at 4750 rpm engine and robust four-speed gearbox ensure a smooth and exciting ride. But every legendary machine needs its maintenance.
Jawa 250 motorcycle parts offer
At JAWASHOP, we offer an exhaustive range of precision-manufactured spare parts that will restore your motorcycle's original performance and even surpass it. Our Jawa Californian motorcycle spare parts offer includes:
Engine and crankcase
Gearbox and clutch
Fuel system
Secondary chain drive
Bowden cables
Exhaust system
Frame and accessories
Steering and handlebars
Mudguards and covers
Seats and covers
Wheels and brakes
Electrical equipment
Books
Other accessories
Selection of spare parts for Jawa 250
When it comes to choosing the perfect spare parts for Jawa 250 Breeze, it is essential to know the type of your bike and the parts(for example, if you need a part for the engine or for the brakes etc...) that you need. At JAWASHOP we provide a clear and detailed description of each part for all JAWA and CEZETA motorcycles.
In case you are looking for spare parts for a motorcycle other than the Jawa 250, please visit our Parts by Type offer.
Show more
Show less