Jawa 250 - 350 Californian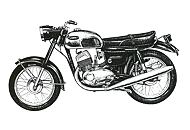 Dive into an extensive selection of spare parts for the iconic Jawa Californian at JAWASHOP. We provide a wide variety of high-quality components designed specifically for this classic model and other JAWA and CEZETA motorcycles. Whether you're in need of a specific part or general maintenance items, we have everything you need.
Technical parameters of the motorcycle Jawa 350 Californian
The Jawa 350 Californian motorcycles boast a 343cc two-stroke, two-cylinder engine that delivers up to 13.1 KW or 18 horsepower. The top speed of this motorcycle is around 120 km/h. With a weight of around 150-160 kg and a tank size of 13.5 litres, the Jawa 350 Californian offers ideal dimensions for a comfortable ride.
Spare parts offer
Our range of spare parts for the Jawa 350 Californian includes:
Gearboxes and clutches
Fuel systems
Wheels and brakes
Engines
Mudguards and covers
Handlebars
Seats and covers
Secondary chain drives
Bowden Womb
Frames and accessories
Electrical equipment
Books
Other accessories
Selection of spare parts
When selecting spare parts for your Jawa 350 Californian, it is important to know which part to choose for your motorcycle.
Browse our range of spare parts you may need for your Jawa 350 Californian or Jawa 350 type 362 Californian motorcycle.
Show more
Show less