Condenser AEV 0403 - 24mF (Jawa, CZ)
---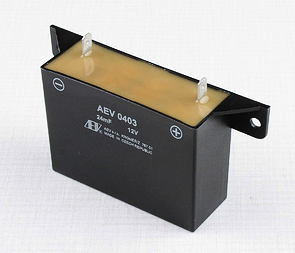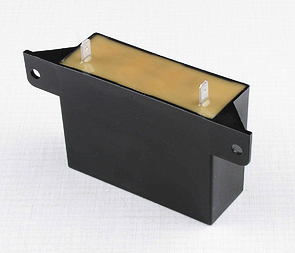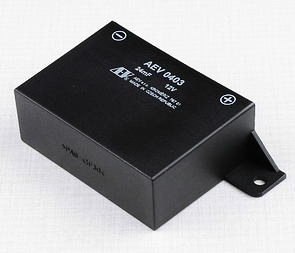 | | |
| --- | --- |
| Weight: | 0.26 Kg |
| Made in: | Czech Republic |
| Made of: | electronic |
| Operating voltage: | 35V DC |
Condenser AEV 0403 - 24mF (Jawa, CZ)
---
In stock (2 pcs)
Delivery in 2 - 4 working days
Shipping country:
Czech Republic
---
Recommended for motorcycles that use VAPE ignition 6V or 12V without accumulator.
Important: The AEV 0403 condenser has a different polarity of the connection contacts as well as the battery where it will be connected. It must not be reversed!
Detailed description:
Nowadays, JAWA and ČZ motorcycles are increasingly being used, mainly as a replacement for dynamo-battery sets, ignition and source sets, whose basic part is a permanent magnet alternator. These new kits are characterized in that the ignition and source parts are completely independent of each other and the ignition function is therefore not conditioned by the presence of an accumulator. Therefore, some manufacturers allow the operation of these kits without a battery, but at the same time recommend to connect the battery instead of the motorcycle electrolytic capacitor with a capacity of 22 ÷ 47mF (22 000 ÷ 47 000uF) with operating voltage at least 25V , see. eg recommendations from VAPE. This is because the DC output voltage from the regulator, after rectifying the alternator voltage, especially the single-phase, has a very high ripple factor, and at the same time there is a wide range of voltage pulses that arise during regulator operation or are induced from the ignition circuit. Therefore, if the battery or capacitor of the corresponding capacity is not connected to the mains, this condition will significantly affect the operation of some appliances or may even damage them.
Delivery to post office in Czech Republic from 170.00 CZK

This spare part can be used on following motorcycles.