Secondary chain drive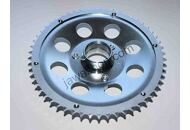 If you're in need of new secondary chain drive parts for your motorcycle, JAWASHOP has got you covered. We provide a comprehensive range of spare parts suitable for historical motorcycles of JAWA, CEZETA, and other brands. Explore our selection to find the perfect secondary chain drive parts for your needs
Secondary chain drive spare parts
Secondary chain drive is a part that motorcycle owners often have problems with. It is therefore important to have the best quality and most reliable secondary chain drive. Your overall riding experience will improve countless times over if your motorcycle is in top condition.
When selecting replacement chain drive parts, it is important to know what part you will be replacing, what bike you will be replacing it on, and how big of a part you will need. Everything you need to choose the right part can be found in our e-shop.
Spare parts offer for secondary chain drive
In our spare parts offer for secondary chain drives you will find:
All spare parts in our range are high quality and reliable. The spare parts on our e-shop are a clear guarantee of satisfaction.
If you are looking for other spare parts, you will find them in our Parts by Category offer
For spare parts for a specific type of motorcycle, visit our Parts by Type offer
Show more
Show less