Jawa 50 Pionyr 05 20 21 23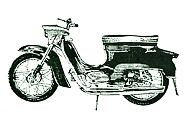 Do you own a vintage Jawa 50 Pionyr and are you looking for spare parts? At our e-shop you are in the right place. Here you will find all spare parts for Jawa 50 Pionyr motorcycles. JAWA SHOP is the place where you can find quality spare parts for all types of vintage motorcycles.
Spare parts offer for Jawa 50 Pionyr
In our offer of spare parts for Jawa 50 Pionyr you will find:
Engine and crankcase
Gearbox and clutch
Fuel system
Secondary chain drive
Bowden cables
Exhaust system
Frame and accessories
Steering and handlebars
Mudguards and covers
Seats and covers
Wheels and brakes
Electrical equipment
Books
Other accessories
All spare parts are of the highest quality. Our spare parts are long lasting and highly reliable.
Selection of spare parts
When selecting spare parts, it is important to know exactly what spare part you are looking for. You will find spare parts for various types of Jawa 50 Pionyr motorcycles. These types are:
Show more
Show less