Jawa CZ 150 type 352 Kyvacka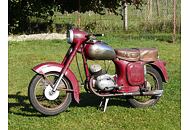 If you're on the hunt for superior spare parts for your Jawa CZ 150 type 352 Kyvacka motorcycle, look no further. At JAWASHOP, we cater to your specific needs with the highest quality spare parts available for JAWA and CEZETA motorcycles, including the Jawa CZ 150 model. We are committed to serving you and ensuring your classic motorcycle maintains its original charm and performance.
Jawa CZ 150 - Technical parameters
Jawa CZ 150 352 is a popular model that belongs to the category of motorcycles Jawa CZ 125 - 175 Kyvacka. Jawa CZ 150 is known for its reliability and traditional design. This motorcycle is equipped with a two-stroke single cylinder engine with a displacement of 150 cm³. It produces 7 horsepower and reaches a top speed of up to 75 km/h

Jawa CZ 150 - Spare parts offer
At JAWASHOP we offer a wide range of spare parts for Jawa CZ 150, including all key components. Our spare parts offer includes:
Engine and crankcase
Gearbox and clutch
Fuel system
Secondary chain drive
Bowden cables
Exhaust system
Frame and accessories
Steering and handlebars
Mudguards and covers
Seats and covers
Wheels and brakes
Electrical equipment
Books
Other accessories
The highest quality of spare parts is a matter of common course for us. All the spare parts in our range are manufactured to meet the technical requirements and improve your motorcycle.
Selection of spare parts
Choosing the right spare part is as important as the quality of the part. When selecting a spare part, it is important to know the model and year of manufacture of your motorcycle, which spare part you need (for example, if you need a clutch, secondary chain drive or brake part) and other information about the spare part such as size and shape.
Our e-shop is designed to help you find the right spare part, you can find information about each part in the Parts by Category offer.
Spare parts for other CEZETA and JAWA brands can be found in the Parts by Type offer.
Show more
Show less