CZ 175 type 501 scooter (1957 - 1960)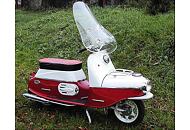 Explore a comprehensive range of quality spare parts for the Jawa Cezeta 175 at our JAWASHOP. We specialize in offering parts specifically designed for this classic model, along with other JAWA and CEZETA motorcycles. Whether you're seeking a particular component or general maintenance parts, our shop is your go-to resource.
Offer of spare parts
In our offer of spare parts for Jawa Cezeta 175 motorcycles you can find:
Engine and crankcase
Gearbox and clutch
Fuel system
Secondary chain drive
Bowden cables
Exhaust system
Frame and accessories
Steering and handlebars
Mudguards and covers
Seats and covers
Wheels and brakes
Electrical equipment
Books
Other accessories
Selection of spare parts
When choosing spare parts for your CZ 175 Type 501 Scooter, it is important to know exactly what part you need. All the information about each part can be found in the individual categories.
Show more
Show less