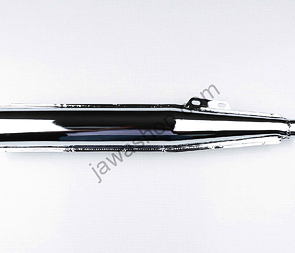 | | |
| --- | --- |
| Weight: | 1.1 Kg |
| Catalogue number: | 451 9 228 01 048 |
| Made in: | Slovakia |
| Made of: | steel - chrome |
| Number of pieces: | 1 |
| Category: | Exhaust silencers and pipes |
---
It is body of exhaust silencer. Insert of exhaust silencer is not included. If you need complete exhaust silencer please see Code 11335.
DHL Express Worldwide from 31.50 USD
Czech post - small package by air mail from 10.76 USD
Czech Post - non-priority mail (ECO) from 15.91 USD
Czech Post - air mail (AIR) from 22.87 USD

This spare part can be used on following motorcycles.